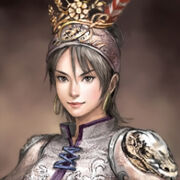 Lu Lingqi (呂玲綺) is the name given to Lu Bu's daughter in the Romance of the Three Kingdoms series. Since there is little to no historical data on Lu Bu's daughter, her personality and name are fictional. As a side note, Lu Bu's daughter is mentioned to be leaving in a carriage at Xia Pi, but it is never specified if she is Lu Ling Qi.
Ad blocker interference detected!
Wikia is a free-to-use site that makes money from advertising. We have a modified experience for viewers using ad blockers

Wikia is not accessible if you've made further modifications. Remove the custom ad blocker rule(s) and the page will load as expected.