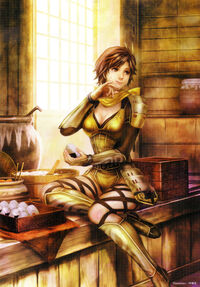 Nene has been supporting Hideyoshi since his days serving under Nobunaga. When Mitsuhide betrays his master, her husband races to avenge his lord at Yamazaki. Wanting to support her husband and her three closest "children" (Kiyomasa, Masanori, and Mitsunari), she joins them in battle to support and encourage them. Although Hideyoshi wins the battle and becomes Nobunaga's successor, Oichi dislikes Hideyoshi's new rule and asks Katsuie to assist her rebellion at Shizugatake. Upon their victory, the Oda clan disappears.
Ad blocker interference detected!
Wikia is a free-to-use site that makes money from advertising. We have a modified experience for viewers using ad blockers

Wikia is not accessible if you've made further modifications. Remove the custom ad blocker rule(s) and the page will load as expected.