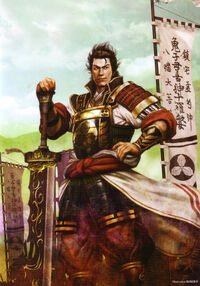 After Nobunaga's death at Honnoji, Mitsuhide requests for the Tsutsui clan to aid him at Yamazaki. Sakon, a former Takeda general who resided with the Tsutsui at the time, convinces his master to instead side with the more capable Hideyoshi. During the conflict, Mitsunari and Sakon keep track of the other's promise of talent. Hideyoshi becomes the land's de facto leader after he defeats other Oda generals. By this time, Sakon was angered by his lord and wandered the land for indulgence. Mitsunari finds him and, once the younger man states that he wants his services as his equal, Sakon agrees to serve him. He aids the land's unification by suppressing Kyushu and by partaking in the western siege at Odawara Castle.
Ad blocker interference detected!
Wikia is a free-to-use site that makes money from advertising. We have a modified experience for viewers using ad blockers

Wikia is not accessible if you've made further modifications. Remove the custom ad blocker rule(s) and the page will load as expected.