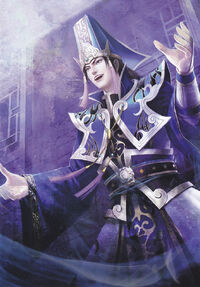 Sima Yi began his career as Secretary of Literature under Lord Cao after the pacification of the north. His first military assignment was against Zhang Lu in Hanzhong. Sima Yi's strategies were a success and Lord Cao was greatly impressed.
After Cao Cao, and his son, Cao Pi passed away and Cao Rui stepped up to the throne, Zhuge Liang started his expeditions to the north. In 227, Meng Da attempted to defect back to Shu. After hearing this, Cao Rui sent Sima Yi to Xincheng to stop Meng Da from defecting. The battle killed Meng Da in the process and Sima Yi was gives much praises. Starting from the year 228, Cao Zhen led the defense against Zhuge Liang while Sima Yi led the strategies for the battles.
During the Reign of Cao Fang; Sima Yi was appointed as Prime Minister and received the Nine Dignities from Cao Fang. Sima Yi placed his sons Zhao and Shi in high positions and took away power or killed anyone who still supported the Cao Family. Also duing Fang's reign, Sima Yi started a rebellion which caused Wei's regent, Cao Shuang, to step down. Sima Yi took position as regent later on and his sons, after his death, gave high contributions to Wei including Shu's fall during Sima Zhao's reign in 263.
Sima Yi died in 251 AD. Fourteen years later his Grandson, Sima Yan, usurped the throne and established the Jin Dynasty.
Fan Game Data
Edit
Biography:
三国曹魏名将,晋宣帝。(179~251)
司马防之子,司马朗之弟,聪明多大略,博学洽闻,因而为曹操所拔擢。在担任太子中庶子时期与曹丕相友善,为其夺得嗣子之位多有谋划。魏明帝曹睿继位後,出任荆州刺史,在曹真死後转赴西北地区抵御诸葛亮之进攻,坚持防守之策略一直到诸葛亮病死。但是在对付其它人时则灼灼逼人,八日擒孟达,百日平辽东,功威赫然。曹睿死後,司马懿发动高平陵兵变,从此政归司马氏。历经其子司马师、司马昭两代後,其孙司马炎终於篡魏而建晋,司马懿被追尊为晋宣帝。