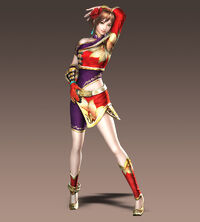 Sun Shang Xiang defended her home while her father and brothers fought for the Allied Forces. After Dong Zhuo's down fall, their family ally, Yuan Shu, clashes with Liu Biao and requests support from Sun Jian. Her father gives into her wishes to fight with them on the battlefront and asks her to lead the eastern battalion. Though they win the battle at Jing Province, it costs her father's life and Sun Ce passes away soon after. Sun Quan reconstructs their home and allies with Liu Bei to defeat Cao Cao. Curious to meet her brother's ally, she joins the chase for Cao Cao's head. After the conflict, she is arranged to marry Liu Bei and falls in love with her husband. However, the marriage is a ploy to feign trust for Liu Bei and Sun Quan calls her back to Wu. She returns to her home to assist their struggle at He Fei and help secure Nan Zhong. When Liu Bei declares war on Sun Quan for causing Guan Yu's death, Sun Shang Xiang decides to stay true to her family before her beloved. Causing Liu Bei's death at Yi Ling, she swears to continue living her life worthy of his memory.
Ad blocker interference detected!
Wikia is a free-to-use site that makes money from advertising. We have a modified experience for viewers using ad blockers

Wikia is not accessible if you've made further modifications. Remove the custom ad blocker rule(s) and the page will load as expected.