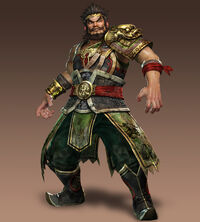 Zhang Fei is a renowned warrior who loves his wine. In the series, he shares a minor rivalry with Lu Bu, as Liu Bei mentions both warriors to be of similar strength. Most games reenact the three brothers clashing with the warrior at Hu Lao Gate. A few games mention Zhang Fei's grudge for Lu Bu, as the latter steals Xia Pi away while it is under the former's jurisdiction. He is famous for serving as Liu Bei's rear guard at Chang Ban, guarding one of the bridges leading to his brother and bellowing a shout that terrifies Cao Cao's army. Zhang Fei usually dies around the same time as Guan Yu. In recent games, this either happens when he tries to reinforce his older brother at Fan Castle or when he participates in Liu Bei's army at Yi Ling.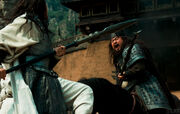 Ad blocker interference detected!
Wikia is a free-to-use site that makes money from advertising. We have a modified experience for viewers using ad blockers

Wikia is not accessible if you've made further modifications. Remove the custom ad blocker rule(s) and the page will load as expected.